What is a conflict diamond?
Conflict diamonds are diamonds that are mined from areas controlled by rebels opposed to legitimate government. These diamond sales fund military actions. The diamonds sold on the black market are used to fight a bloody war victimizing many children. The last thing anyone wants when making a diamond purchase is to know that their money possibly helped aid brutal acts of aggression.
Why are human rights activists concerned about conflict diamonds?
Diamonds in Sierra Leona, Angola and the Democratic Republic of Congo have funded civil war and abuses against the civilian population. Sierra Leone is of particular concern because of the terrible abusiveness of the rebel forces that control most of the country's diamond production. The rebels have forced millions of Sierra Leoneans from their homes and committed tens of thousands of crimes, including the recruitment of child soldiers and the amputation of hands of thousands of children, men and women, despite the presence of over 10,000 UN peacekeepers.
How can a consumer avoid buying a "conflict diamond"?
A well structured "Certificate of Origin" can be an effective way of ensuring legitimate diamonds. Many diamonds now mined in the Yukon of Northern Canada now come with certificate of origin which eliminates the possibility of conflict diamonds. Legislation is being passed in North America which will require all diamonds being so verified as conflict-free diamonds. Canadian certified diamonds insure you are buying a gift of love and purity.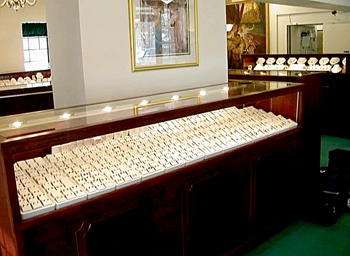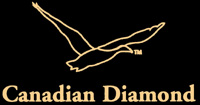 Freed from the Arctic ice after 3 billion years, these diamonds are completely certified in their origin!
The allure of Canadian Diamonds.
With the increasing popularity of Canadian diamonds and the allure of beauty in which they offer to the consumer, it is no wonder why we are seeing them marketed in stores across North America. Now with the second mine in Canada open and ready for business, it appears the Canadian diamond market will be on a steady rise. In a recent release from the CICS it was stated that Canada is already producing approximately 12% of the world's rough diamonds. That is over $1 billion per year, placing Canada third in the world for rough production (behind Botswana & Russia and ahead of South Africa). The Ekati Diamond Mine project, the first Canadian diamond mine to produce and sell its rough, was established approximately 10 years ago in 1990. Soon after, in 1991, the first diamonds in the Northwest Territories were discovered. This discovery of diamonds in Canada was said to have brought about a "diamond rush" in the NWT, now referred to as the largest rush in North American history. It wasn't until October 1998 that the Ekati Diamond Mines officially opened for business.
Many were excited about the new possibilities that Canadian diamonds could bring to the industry. They wanted to capture the true allure of these magnificent gems and thus, the campaigns began and the brands were created. Since the opening of the Ekati Diamond Mine, the Canadian diamond market has been steadily moving ahead, which has paved way for the second diamond mine in the Canadian North West Territories, the Diavik Diamond Mine. Many celebrated as the long awaited opening of the mine took place in July 2003. Hundreds had gathered at Diavik's official opening ceremony to celebrate the future of the mine.
Now you may be asking yourself with all the diamonds in circulation, how can one be sure that the diamond they are buying is an actual Canadian diamond? Our Canadian diamonds come complete with a certificate of authenticity stating that this particular diamond was mined in Canada. There's a serial number for the diamond that will allow your diamond to be traced back to the mine in which it was produced.
At Gem and Diamond Specialists, our Canadian diamonds go through a rigorous tracking process from beginning to end. We ensure that each individual diamond is assigned its own unique serial number. This serial number will then be laser-inscribed along with our trademarked "Canada Goose" on the girdle of the diamond to further ensure that identity of that Canadian diamond. In addition, every one of our Canadian diamonds comes with a detailed Certificate of Authenticity clearly stating the assigned serial number as well as a full Grading Certificate from a certified laboratory.