About Us – Jeff started cutting gemstones and making jewelry in his early teens. For over 25 years. he and his wife, Suzanne, have been wholesaling colored gemstones and diamonds to retail jewelers in the mid-west. They opened their present location in downtown Imlay City in 1983. They travel to Brazil, Thailand and China to purchase gemstones. Ten years ago they built a home in Sri Lanka in the Village of Ratnapura where Ceylon sapphires are mined. They specialize in rare and unusual gems like alexandrite, tourmaline, tanzanite and sapphires in all different colors.

What we offer – Engagement rings, Mother's rings, Birthstone rings, Pearl jewelry, jewelry repair, pendants, chains, earrings and much more.

Mission Statement – To offer a no pressure, educated sales approach where the customer learns directly from one of the owners. Serving the community since 1983.

Referrals – For a non biased opinion on our reputation, you can call the Imlay City Chamber of Commerce or the local newspaper, Tri-City Times.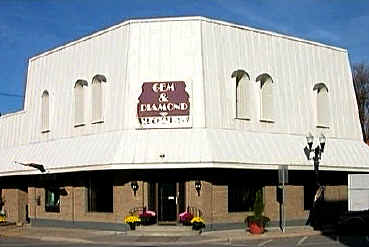 "If you're ever in town, just ask the local barber shop!! Let's face it. Those guys really know everything."
All the Best,
Jeff Johnson
What our customers say:
January 2004

Gem & Diamond Specialists,
You did such a beautiful job on my diamond engagement ring! It turned out even prettier than I had imagined. We love it! We have received many compliments on it also. We have been giving people your name and location. We hope it brings you more business!
Thanks so much,
Amanda F.
Saginaw, MI
STOP IN AND MEET THE OWNERS. DISCOVER THE DIFFERENCE AT GEM AND DIAMOND SPECIALISTS IN DOWNTOWN IMLAY CITY.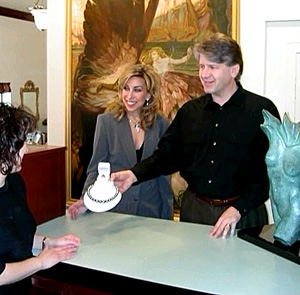 WE HAVE DONATED JEWELRY TO THESE LOCAL
CHARITIES FOR AUCTION FUNDRAISERS
Lapeer County Habitat for Humanity
L.A.C.A.D.A.
N.B.W.A.
Imlay City Rotary Club
Family Literacy Center
Trout Unlimited
Pheasants Forever
Knights of Columbus Council 1987 Lapeer
Four H Club
Greater Flint Arts Council
Hospice
Imlay City Boys Little League
Four County Foundation
Buckham Alley Theatre – Flint
Hillsdale College
Almont High School Drama Class
Almont M.O.P.S.
Imlay City Blue Penny Festival Auction
Founders Society F.I.A.
Seven Ponds Nature Center
Flint Institute of Arts
Junior League of Flint
Mission of Mercy International
Lapeer County Courthouse Restoration Committee
Hurley Foundation
Imlay City Girls Softball League
Mussey Township Fire Department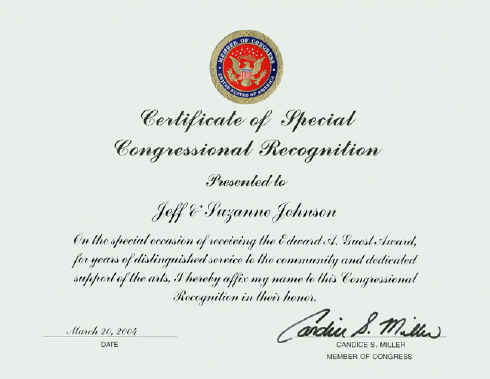 We are very proud to have been the recipients of the Edward A. Guest Award from the United States House of Representatives for service to the community and our support of the arts.
Tri-City Times March 17, 2004
Johnsons are a gem in community
There are many gems in the Imlay City community, and Jeff and Suzanne Johnson are among the brightest when it comes to generosity and community spirit.

The Johnsons, owners of Gem and Diamond Specialists downtown, are behind the scenes kind of people who are very generous when it comes to fundraising for a number of community events and causes.

For more than two decades, the Johnsons have donated valuable pieces of jewelry for the benefit of a number of local causes, including the Blueberry Festival, the Lapeer Family Literacy Center, the Four County Community Foundation, local churches, Lapeer Area Citizens Against Domestic Abuse, Little League sponsorship and more.

The Johnsons have also been generous with their time. They've introduced professional live theater to the area, having brought in three stage productions, with the proceeds benefiting local charities. In April, a return presentation of 'Escanaba in da Moonlight' will benefit the Lapeer County Habitat for Humanity.

Their benevolence hasn't gone unnoticed. On Saturday, Jeff and Suzanne will be honored by the Attica-Imlay Masons as recipients of the Edgar A. Guest Award.

The annual award is reserved for non-Masons in the community who have demonstrated distinguished service to their community and to their fellow man. Jeff and Suzanne Johnson are a perfect fit.
Family Literacy Hall of Fame
Each year, the Family Literacy Center selects very special volunteers and supporters to honor. They are included in the Family Literacy Center Hall of Fame. We were very proud to have been selected for this honor in 2003!


Phone 810-724-RUBY