Custom Designed Jewelry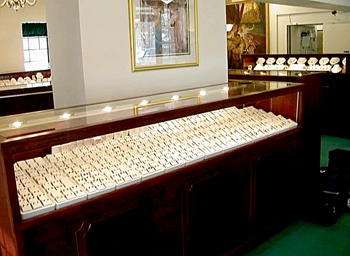 Our store is a jewelry art gallery as a large percentage of our jewelry is designed and created by us. We specialize in "one of a kind" jewelry. Our designs are influenced by a mixture of Art Nouveau and Celtic styles. Most are extremely modern.
You can choose from over 2,000 rings in stock or we can design an original style just for you. We will draw then carve a wax model to show you. Upon your approval a finished design will take 3 to 4 weeks to complete. Most of our work is done in 18 kt gold or platinum.
Our overhead is extremely low and is reflected in our prices. Many of our customers drive from over an hour away! Most from word of mouth advertising.
We also have a good selection of mother's rings with genuine birthstones.
If you are on a budget and have some old broken jewelry, we can get your gold refined and create a beautiful ring or pennant for you.
An example of our prices:

Carve a wax
Cast and polish a ring
Refine gold
Make a custom wedding ring
$100.00 to 150.00
$ 75.00
$ 35.00
$150.00 to $200.00
One of the owners will personally serve you
Custom Design – We will design a unique piece of jewelry just for you. We specialize in one-of-a-kind creations. Most stores that carry "Designer Jewelry" are just the middleman. At Gem & Diamond Specialists we are the designers. 80% of our inventory is created by us.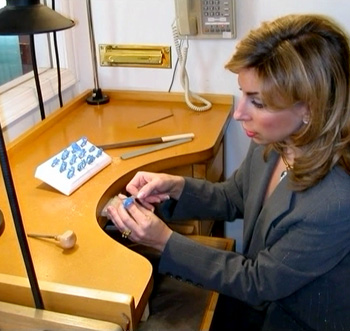 Suzanne Johnson is a classically trained artist and sculptor and has studied in Europe. She also is a graduate gemologist. We request 4 weeks to complete the designs. Most work is done in 18 kt. gold or platinum. Learn more about Suzanne.

Phone 810-724-RUBY