Sri Lanka
"Something isn't quite right," thought Jeff Johnson as he hiked through the lush Sri Lanka forest on the mile-long trail running between the road and the gem mine he'd come to visit.

His feet itched terribly. And then he saw the dark red spots on his socks. Something was wrong. Underneath the cotton, something was moving and it wasn't him.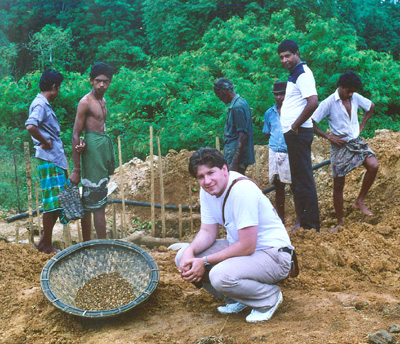 Jeff Johnson at gem mine in Sri Lanka

"Ground leeches," his Sri Lankan guide told him, as more than 50 of the inch-long blood suckers covered his feet, nudging each other for feeding room. Blood-sucking ground Ieeches are only one of the occupational hazards faced by Jeff Johnson, who owns Gem and Diamond Specialists in Imlay City. He'll go almost anywhere to find the best gems.

For Johnson, it all began as a boy of 14 gathering Petoskey stones along the northwest shore of Lake Michigan. These days he travels farther afield: Brazil, Japan, Thailand, Hong Kong and Sri Lanka.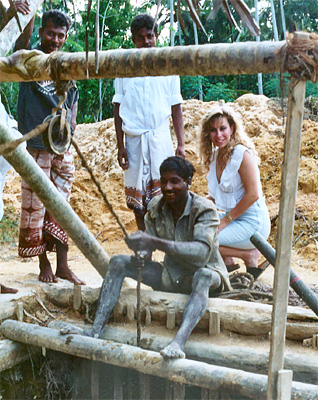 Suzanne Johnson at gem mine in Sri Lanka

He speaks with enthusiasm of Sri Lanka, which he visited again in October.

"Every gem dealer and his brother goes down to Brazil," said Johnson, "but Sri Lanka is a little more dangerous...It's Indiana Jones stuff."

Precious gems are so common in Sri Lanka, reports Johnson, that when workers are digging the foundation of a road, "they'll have only one guy working, and the other 20 will be looking for gemstones."

"One great find would be enough for a worker to retire on," he explained.

The temptation is so great that mine owners are forced to employ guards to keep their workers from concealing--often by swallowing--the gems they find.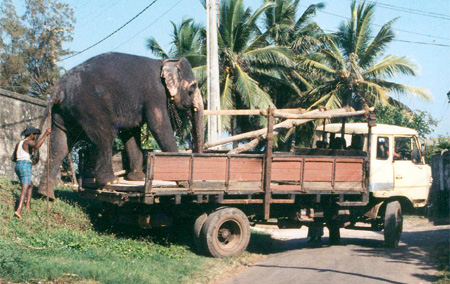 Loading up the elephant. This is who you call when you need a wrecker!

As much as he enjoys the travel, blood-sucking leeches and all, Johnson only spends three weeks of the overseas. "There's only a handful of people who do what I do in Michigan," said Johnson, who specializes in sapphires and tourmalines. "The future looks bright."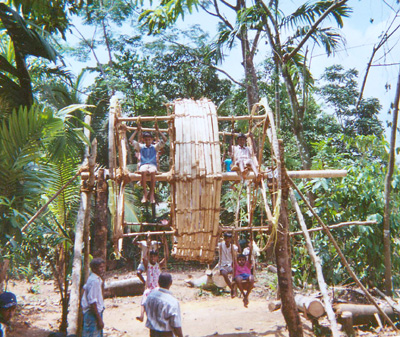 Kids playing on the local ferris wheel. The power comes from a man walking on the inner wheel!

Surrounded by trays of sapphires, rubies, emeralds and topaz, it's not hard to take him at his word. As for the job hazards--blood-sucking leeches and all--they add to the romance of the stones.
| | |
| --- | --- |
| Buddist monks offer, "Namaste Baba-Ji !" | Bamboo walls hold up the sides of the mine while workers search in standing water. |
Phone 810-724-RUBY