Suzanne Marie Johnson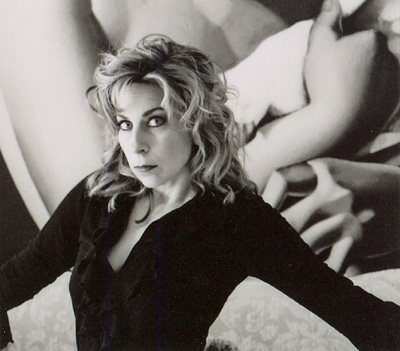 "(Her sculptures)... are to be admired in silence and whispers seem appropriate when one speaks of the thoughtfully created sculptures and the feelings they evoke... Whether developed from models or evolving from Johnson's mind pictures, her work is unfailingly inspirational and capable of taking up residence in any setting, elevating the ambiance accordingly."
~ Alice Tippery, The Saline Reporter, July 3, 1996
She studied sculpting in Paris and the Loire Valley of France, as well as in Montreal, Canada. She gathered inspiration after visiting the studios of world famous sculptors, David D'Anglers and Rodin, the creator of the famous sculpture "The Thinker."
"When I am sculpting, time stands still. I'm totally involved. All my emotions are put into it," she said. "If I have a vision, I want to carry it through to completion." Some days she will work as many as 10 hours straight. "It's a very solitary thing," said Suzanne.
Sculpting involves a great deal more difficulty that painting. Suzanne said painting involves work with design, composition and materials. With sculpting you have to make a composition from every view and every angle all the way around.
"As you're working, it has to look like a person and it has to be an interesting design, besides being correct," she said.
She starts with a piece of clay, about 50 pounds. Once she sculpts the clay, she takes a mold off of it to make a rubber mold with a plaster mold over top. Then the mold is opened and a special wax is poured into it. The wax is coated with a ceramic shell, then the wax is burned out and the bronze is poured in.
All her pieces are mounted on either marble or granite and are limited to no more than nine editions. Some pieces may be limited to as little as two editions.
On June 19, Suzanne received word that she had won the Award of Excellence in the Manhattan Arts International Competition in New York City.
She also received notification that her work was accepted in their "Contemporary Realism" competition in Philadelphia, PA. It is a juried competition where many people send in slides of their works, with a small percentage being accepted n the competition. Suzanne noted that it is a real honor.
Suzanne has done many sculptures that have been inspired by different things. The piece "She Walks in Beauty" was inspired by a Lord Byron poem. "Like a Queen" was inspired by the châteaux and castles of France.
Her sculpture of a young Rembrandt was taken from one of his many self portraits. Rembrandt was about 35 years old in the picture that Suzanne used and is titled "Portrait of Rembrandt." She also did the wife of a U.S. Ambassador to Africa , which is titled "U.S. Ambassador's Wife."
She has also been commissioned to sculpt the first president of the national ski association. It will be on display at the U.S. Nation Ski Hall of Fame and Museum.
Her series of torsos and figures called the Body Temple Series, is very special to Suzanne.
Suzanne's art education includes the Institute Beaux Arts of Montreal, Vaguel Institute in the Loire Valley, France. She was privately instructed by Per Ung of Oslo, Norway, and Sergio De Gusti, the professor of fine arts at Wayne State University.
~ Debra VanDenBerg, Tri-City Times, July 3, 1996

Born:
Detroit, Michigan U.S.A., 1961
Prior Occupation:
International gem dealer and custom jewelry designer (ten years)
Graduate gemologist, Gemological Institute of America

Art Education:
Institute de Beaux-Arts-Montreal
Vaugel Institut-Loire Valley, France

Privately instructed by:
Per Ung - Oslo, Norway
Sergio De Gusti - Professor of Fine Arts, Wayne State University

Professional Memberships:
National Sculpture Society
Michigan Sculptures Guild
The National Museum of Women in the Arts
International Sculpture Center
Corporate Collections:
John D. Moir Corp. offices, Michigan
Dayton Hudson Corp., Minnesota
Permanent Civic Collections:
U.S. National Ski Hall of Fame and Museum, Michigan
Northern Michigan University - Sculpture Garden, Michigan

Private Commissions:
U.S. Ambassadors wife, Mrs. Frinak
Monsieur Richer
Exhibitions:
"Fine Arts Competition", Birmingham, MI 2005
"Michigan Artists Invitational Show", Greater Flint Arts Council 2004
"Celebrate Michigan", group show, Lansing Art Center 2003
Greater Flint Arts Council, group show 2002 and 2003
Alexanders Fine Arts Gallery, group show 1996
Principle Gallery, French Artists, group show 1996
Lafayette Gallery of Fine Art Michigan, two person show 1996
Gallery Function Art Michigan, group show'1996
"1996 Contemporary Realism Competition", group show Philadelphia P.A.
Birmingham-Bloomfield Hills Art Association, group show 1994 and 1995

Awards:
Manhattan Arts International 1996 "Award of Excellence"

Galleries Represented by:
Mandarin Fine Arts, Hong Kong
Jasmine Fine Arts, Singapore
Gallery Function Art, New Pontiac, Michigan
Lafayette Gallery of Fine Art, Michigan
Omni Sphere Gallery, Toledo, Ohio
Spazio B. Gallery, Worth Ave. Palm Beach, Florida
The Principle Gallery,. Alexandria Virginia (Washington D,C.)
Current Information:
Suzanne lives in Michigan and divides her time between Quebec, Sri Lanka, France and Brazil. She has circled the globe eight times, traveling to over a dozen countries.